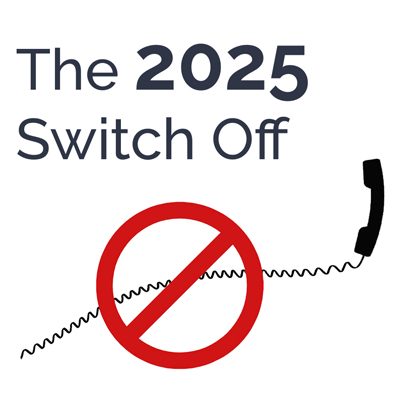 Your business after the 2025 ISDN and PSTN Switch Off
In December 2025, the UK will be switching of the PSTN (Public Switched Telephone Network) across the entire UK. 
PSTN is the old copper based network, which is now reaching end of life. Many of the technologies businesses use today, such as FTTP, ADSL, basic telephone lines and ISDN phone systems, run of this network which means they will reach end of life and be switched off with the network. 
We are now a good way into the 5-year plan of migration to new technologies. This includes your connectivity to be changed to FTTP or SoGEA, and the introduction of Cloud based telephone systems. 
2025 might seem to be far away, but it will be here sooner than we know, which some areas being affected before others. 
As the old technologies reaches end of life, we have new fibre first solution ready to replace your current setup. They provide much more resilient connections, higher quality speeds and will future proof your organisation and workforce to be able to work the most efficiently. 
FTTP (Fibre to the Premises) gives you fibre broadband all the way from the network, to the street cabinet, and then to your premises. With fibre lines all the way, FTTP is the fastest and most reliable broadband you can get.
SoGEA is the alternative connectivity solution, which allows you to have a high-speed broadband connection without the need for a phone line. SoGEA will replace ADSL lines, without the need for a phoneline. 
Plan your business continuity, and make sure your employees can work effectivity whether they are in or out of the office. VoIP is your digital phone solution, which is designed to support the modern business and a WFH workforce. 
We Are Your Partner Through The Digital Transformation
We help businesses of all sizes across the UK to go through The Digital Transformation.
With growing competition and economic challenges, it is important that we find the technology that fits perfect your needs, and for you and your team to become more productive, and efficient while saving on cost. 
We have a team of experts with over 20 years of experience, so there's always someone at hand to assist with everything that you need.
All The Dates You Need To Know
With the Switch Off just a few years away, there are a milestones you need to know, to be sure your organisation is prepared and have time to implement all migrations. Stay up to date here on all dates relevant for the ISDN and PSTN Switch Off. 
2025 Switch Off Resources
Find everything you need to know about the 2025 ISDN and PSTN Switch Off, and the new technologies replacing it.
Book a consultation with one of our experts, to find out if your current technologies will be affected by the Switch Off. Together will will create a strategy to take your organisation through the digital transformation, with the best technology to support you.