Be sure that your company is equipped to function the best possible way no matter if your employees work from the office, from home or on the go. 
Redsquid's ICT solutions are scalable and created to grow with your company so we can make sure we always meet the needs of your business and customers.
Prepare your business for the future and receive some of the many benefits of ICT
Reduce your carbon footprint
Collect and analyze real time data
Improve customer satisfaction
Cut down on cost
Cut operational expenses
Automate processes
Increase up-time
Work from home or on the go
Empower your employees
Save time & money
Cloud is the future for businesses and comes with endless benefits. Make sure that your employees can work productively wherever they are, keep your data safe and cut down on carbon emissions at the same time. Our solution is easy to implement into your business, and Redsquid will help your company seamlessly migrate to make sure your business continuity are kept in place. 
Redsquid's software solution is scalable and can be mixed and matched to find the perfect fit for your business. 
Give your employees the best circumstances to always perform their best, no matter if they are working from home or on the go. All data can be stored in the Cloud to be accessible at all times. Additionally this means your business can cut down on carbon emissions at the same time.
An ICT support desk will most likely be the first point of contact when your customers needs to get in touch with your business. Therefore you should make sure that your service levels are as high as possible by collecting and analyzing data. While this information will give your employees the best circumstances they can provide 1st class service and improve customer satisfaction.
Maintaining and optimizing a business' IT-infrastructure is one of the most vital parts in running a company as efficiently as possible. 
At Redsquid we equip your company with technology that can be scaled as you grow. We are flexible to make sure that you and your employees always have the best circumstances to perform as well as be productive. 
Are You Interested In Our ICT Solutions?
We believe in improving and simplifying the way that you work, whilst providing you with an unrivalled level of personal service and support.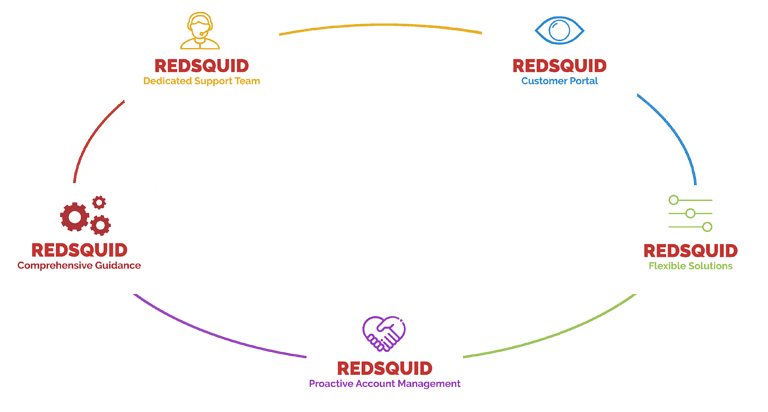 Do you want to grow your business?