Data Connectivity Solutions
A safe, reliable and high quality connection is crucial for your business to work and perform in the best possible way. At Redsquid we offer different data connectivity solutions so you can be sure to find a perfect match for your business and its needs. We believe in flexible and scalable solutions to make sure that your business always have the right solutions at any time. 
Implement data connectivity to make sure you can uphold business connectivity
Unify your offices
Cut down on costs 
Manage your business in the Cloud
Simplify operations
Reliable connectivity
Boost productivity
High qualitative video conferencing
Improve customer experience
A fixed monthly price 
Improve uptime
Redsquid's Data Connectivity Solutions
With ethernet leased lines dedicated to your business, you will be sure that a slow connection never implicates your business again. 
Equally downloading and uploading speed will bring continuity to your business and make sure that the productivity of your team has the best circumstances. 
With Redsquid's MPLS networks solution your business can consolidate its offices and assets into just one simplified system. It is a simple solution which unifies all your offices and makes communication and collaboration easy. At the same time your business will cut down on cost and save space on unnecessary equipment, by implementing our MPLS networks solution.
Wireless access points (WAP or AP) are stand alone connectivity points which spreads the internet connection around a workspace or building. No matter how powerful your internet line is, if you are based in a large office, you will probably need access points to ensure sufficient and reliable connectivity across the whole workspace. Wireless Access Points creates a strong connection, evenly distributed around your office.
Are You Interested In Our Data Connectivity Solutions?
We believe in improving and simplifying the way that you work, whilst providing you with an unrivalled level of personal service and support.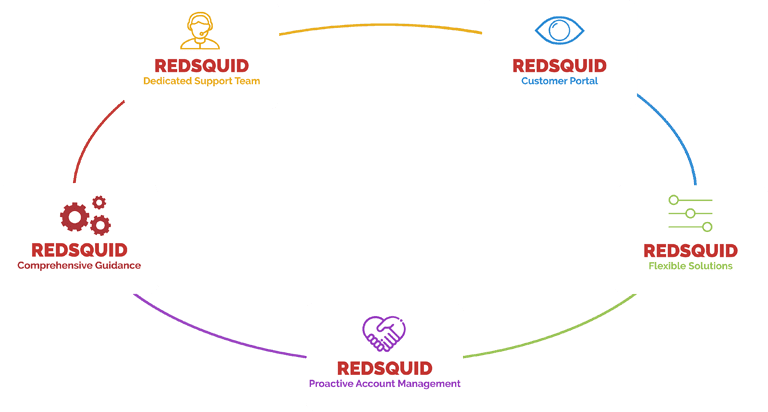 Do you want to grow your business?