Remote Cyber Security Training
Security Awareness training that will make your employees stop the threats
Most cyberattacks happen in employees inboxes. Don't let it happen to yours!
We educate your team on dangerous threats using Redsquid's awareness training so you can learn to recognise and report real attacks before they become disasters.
Security Awareness training that will make your employees stop the threats
Most cyberattacks happen in your inbox. Don't let it happen to yours!
We Provide Baseline Testing
We provide baseline testing to assess risk percentage of your users through a free simulated phishing attack.

Bespoke Training For Your Users
We educate your employees with tailored training relevant for just your business. We can provide bespoke training with interactive modules, videos and even games.

Best-in-class, fully automated simulated phishing attacks, thousands of templates with unlimited usage, and community phishing templates.

Enterprise-strength reporting, showing stats and graphs for both training and phishing, ready for management. Show the great ROI!
everything your employees will need in cyber security training
Our interactive training gives your users a fresh new learner experience that makes learning both fun and engaging.
88% of UK businesses have suffered breaches in the last 12 months
Our technology turns every simulated phishing email into a tool we can use to dynamically train your employees by instantly showing them the hidden red flags they missed within that email.
A Phish Alert button gives your users a safe way to forward email threats to the security team for analysis, while deleting the email from the user's inbox to prevent future exposure. 
1 small business in the UK is successfully hacked every 19 seconds
60+ built-in reports provide holistic views and detailed reporting on your key awareness training indicators over time. 
You will get full visibility which allows you to take data driven decisions.
A system that really works
With our massive database, millions of users have been analysed and uncovered remarkable results. An initial risk percentage of 30% dropped to just 15% in the 90 days period users were following our awareness training. 
365 days later the average was down to just 2 % – making both employees and the businesses safe from cyber crimes. 
We will make your business safe as well!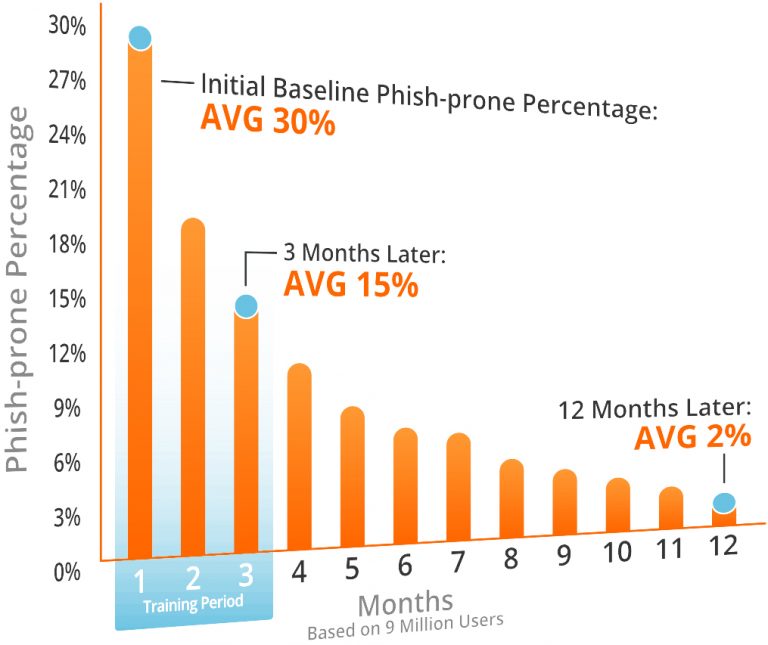 Security Awareness training that Will make your employees stop the threats