Press Release - 28th July 2021
Redsquid announce partnership with omnichannel contact centre provider Cirrus
London, July 2021: Managed Service provider Redsquid have announced their partnership with Cirrus and their award-winning contact centre platform. The partnership enables for Redsquid to provide large SME and enterprise customers with an omnichannel contact centre solution to meet changing customer demands, that have been accelerated by the Covid-19 pandemic.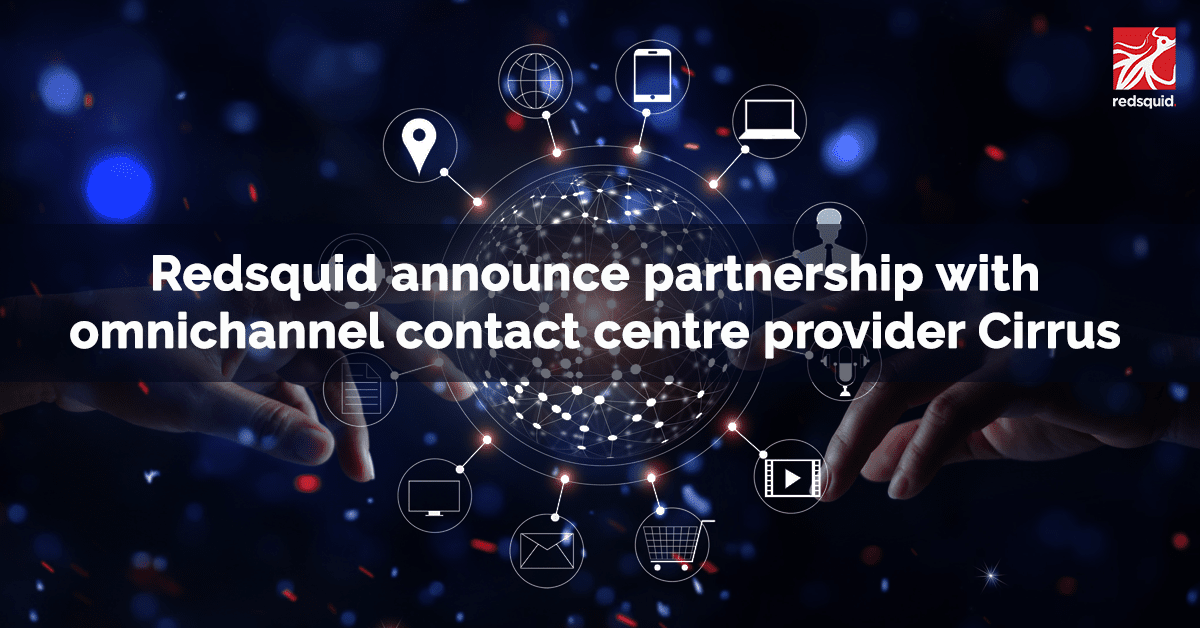 Jason Roos, CEO at Cirrus, commented: "We are delighted that Redsquid have selected Cirrus as their contact centre solution. The industry is experiencing unprecedented pressures and change, and our partnership will provide organisations with an assured combination of award winning, agile technology and high standards of customer service."
Sohin Raithatha CEO at Redsquid, commented: "Omnichannel contact centres are the perfect solution to meet the changing consumer needs. Furthermore, we believe that the technology should be easy and intuitive for agents to use and have the possibility to grow with a business. Cirrus with its Artificial Intelligence features makes all this possible, and we will see this driving the future of customer service in the coming years."
As a Gamma Gold Partner, Redsquid required a collaborative, omnichannel contact centre solution for its clients, enabling them to provide an enhanced customer experience.
This partnership will give Redsquid's existing customers access to the benefits of Cirrus' cloud-based omnichannel platform, which supports hybrid working by enabling contact centre agents to provide a consistent experience for customers, wherever they are located. In addition, for those organisations that utilise Microsoft Teams, Cirrus' contact centre is available as a native integration, which means agents can manage all customer and internal interactions within the Teams application.
Raithatha added: "Over the last years we have seen a shift in consumer behaviour, accelerated by the Covid-19 pandemic. Our partnership with Cirrus enables us to meet our customers' demands for an omni-channel contact centre that allows them to connect with their customers. As we add Cirrus technology into our portfolio, our customers get the opportunity to house all their technology needs with just one partner as we guide them through the digital transformation."
-ends-
At Redsquid we are all about making a difference to our customers with the use of technology. As an innovative provider of solutions within IoT, Voice & Data, Cyber Security, IT, Cloud & Technology services, we are here to improve our customers businesses and operations, and with the use of technology make them more efficient, increase productivity and reduce costs. 
Our values: passionate, teamwork, innovative & integrity shines through all our operations at Redsquid and we are proud to say that those are the 4 pillars shaping our environment and everything we do, as we help our customers with scalable solutions suitable for today and the future.
Visit www.redsquid.co.uk
As contact centre specialists selling exclusively through the channel, Cirrus partners with ambitious companies to help their customers achieve flawless customer experience.  
Cirrus contact centre delivers a seamless omnichannel experience for both customers and agents, connecting interactions together across channels such as voice, video, email, messaging and social media, achieving a single view of the customer. With a cloud infrastructure, Cirrus operates on a real-time basis with unlimited scalability and the highest level of resilience and security. Our open, extensible platform enables us to integrate and innovate rapidly, supporting the requirements of organisations across all sectors, regardless of location or complexity. 
At Cirrus we pride ourselves on our diverse, inclusive culture. Our people are driven by a passion for teamwork, success and innovation and are devoted to helping customers achieve business outcomes. 
Visit www.cirrusresponse.com