Press Release - 20th July 2023
Redsquid Double Acquisition
Redsquid has acquired MSP Covue and Telecoms Provider Connect2 in a move to further enhance its presence as a managed services specialist in the UK. This allows Redsquid to enter the exciting world of the education sector with a strategic move towards public sector customers.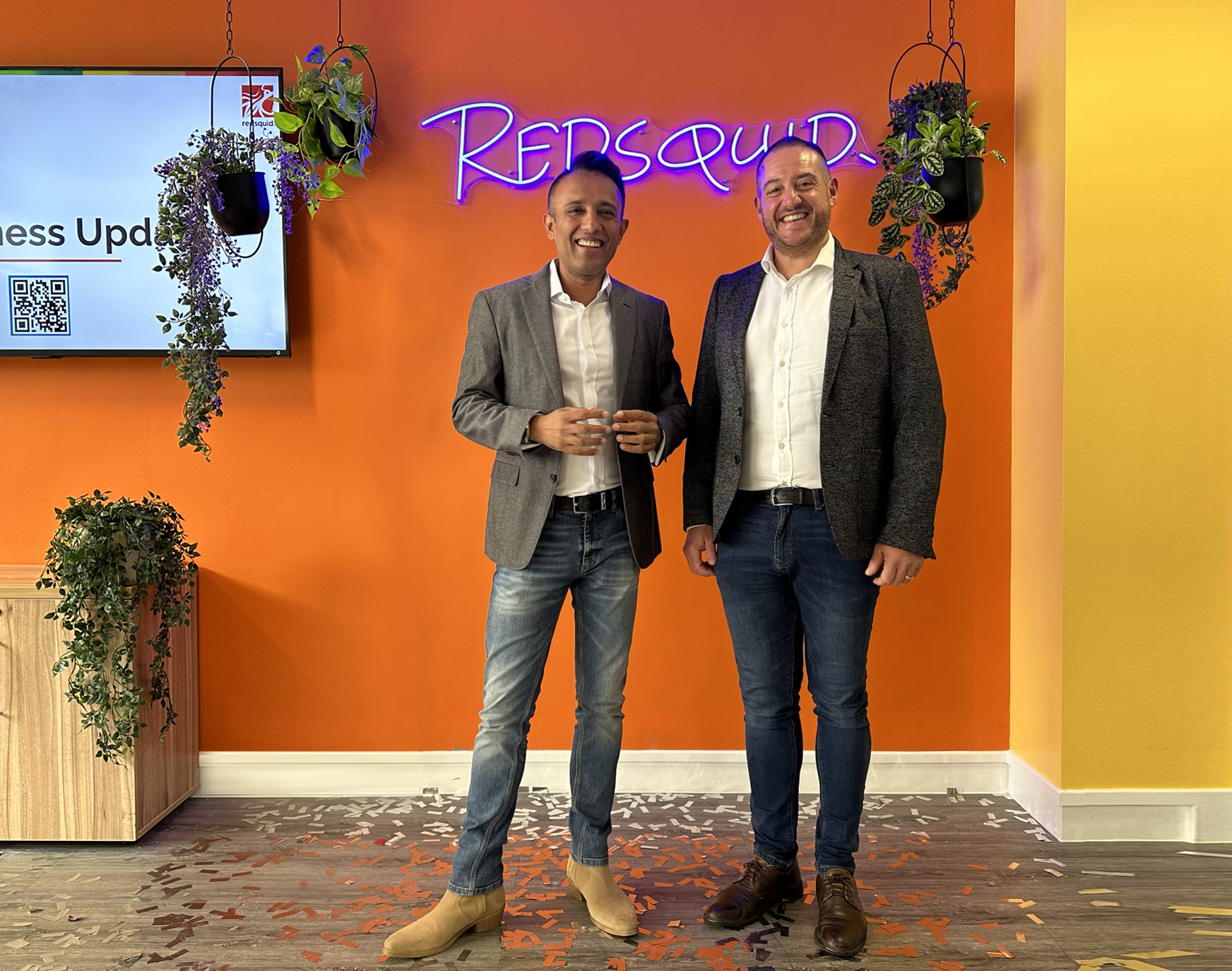 Redsquid has been advised by Altenburg Advisory, who arranged the funding for the acquisitions from Triple Point, working closely with all parties to structure and negotiate an optimal funding solution, which includes a committed funding line for future acquisitions.  
Triple Point are an ideal partner for Redsquid as they aim to maximise growth whilst having a positive impact on communities and the UK economy. With Triple Point already being a B Corp, our organisations have very aligned values for future investments as a part of Redsquid's ambitious buy-and-build growth strategy. 
The two founders, CEO Sohin Raithatha and COO Vince Mignacca, will remain the only shareholders of the business, which they have grown organically and through five acquisitions for the last 17 years. Redsquid will continue to be headquartered in London, and with the acquisitions expand on its local presence both in the London and Oxfordshire area.  
Sohin Raithatha, CEO of Redsquid said: "Bringing these two great organisations into the Redsquid group, helps us fulfil our purpose of making a difference to our customers with the use of technology, as we now will be able to provide them with even more technologies and knowledge supported by Covue's experience in the field." 
 "The acquisition of Covue and Connect2 marks a significant milestone for Redsquid, strengthening our market presence and expanding our reach in crucial areas of the education sector. This move underscores Redsquid's commitment to deliver future proof solutions and services that will revolutionise the education sector to make them more efficient." 
"With Covue, Redsquid gains a powerful foothold in the education sector. This strategic acquisition enables Redsquid to leverage Covue's expertise, proprietary technologies, and extensive network to develop innovative solutions that will reshape the way educational institutions engage with technology and thrive in an increasingly digital world. " 
"We have had a close relationship with Connect2 for years and followed its growth journey. It is well known for delivering exceptional service to their customers, with great and nurtured relationships that shows in a 0% out of contract base. With the acquisition, we look forward to introducing the rest of Redsquid's technology portfolio into their customers organisations so they can benefit from the simplicity of having one unified partner through the Digital Transformation." 
"We are very grateful to Altenburg Advisory for their advice and for arranging these facilities within a short timeframe. Their guidance on the optimal funding structures and terms alongside their hands on approach and commitment to delivery were key to the successful outcome." 
"We look forward to integrating both organisations into the Redsquid community and combine our people, partners and customers – together we will continue our growth and journey to make a difference together." 
Adam Agius, Director at Altenburg Advisory said: "We are very excited to have supported Redsquid on this transaction. The facilities enable the group to make two excellent additions and provide visibility and certainty on funding for future acquisitions which we see as a key differentiator in the current environment. We enjoy partnering with ambitious, growing businesses with excellent management teams and look forward to continuing to support Redsquid on their growth journey." 
Matt Holloway, Head of Business Development at Triple Point, said: "Partnering with Redsquid is further evidence of our commitment to support UK businesses with flexible and well-structured facilities to support growth through acquisitions. We are really looking forward to the future with all the team over the next phase of their strategy."  
This is Redsquid's fourth and fifth acquisition. The acquisition of Covue and Connect2 is supercharging Redsquid's ambitions as it looks forward to continuing its growth, both organically and through more acquisitions, to scale and expand its local presence across the country while bringing resilience and an opportunity to make a true difference to its customers. 
Redsquid was advised by Bower and Bailey Solicitors.  
Financial due diligence was provided by Saffrey Champness. 
– ENDS –
About Redsquid
At Redsquid, we are dedicated to transforming the way our customers do business through the use of technology and business communication solutions. As a provider of innovative solutions in IoT, Cyber Security, ICT, Data Connectivity & Voice, our goal is to enhance efficiency, boost productivity, and reduce costs for our customers. With our solutions, we keep businesses ahead of the curve and on top of their game in the ever-changing technology landscape, so you can trust Redsquid to be your partner in achieving success throughout the Digital Transformation. 
About Covue
Covue's focus has always been IT in education. From encouraging and supporting technology in the classroom, to developing long term development strategies ensuring IT innovation and financial savings – they have dedicated themselves to bringing value to our schools.​
About Connect2
Established for over 30 years, Connect2 have been committed to delivering tailor-made, cost-effective telecommunication solutions to small and medium sized businesses in Oxfordshire and the South of England.​
For more information about Redsquid, please visit: www.redsquid.co.uk