New Features Coming To Teams In 2022
At the last Microsoft Ignite,  Microsoft  announced a strong move into the digital transformation with the introduction to mixed reality and AI technology, Microsoft is opening doors to the future of technology, paving ways for new concepts and technologies that can alter the business world as we know it!
Read along for some of the new features that are coming in 2022!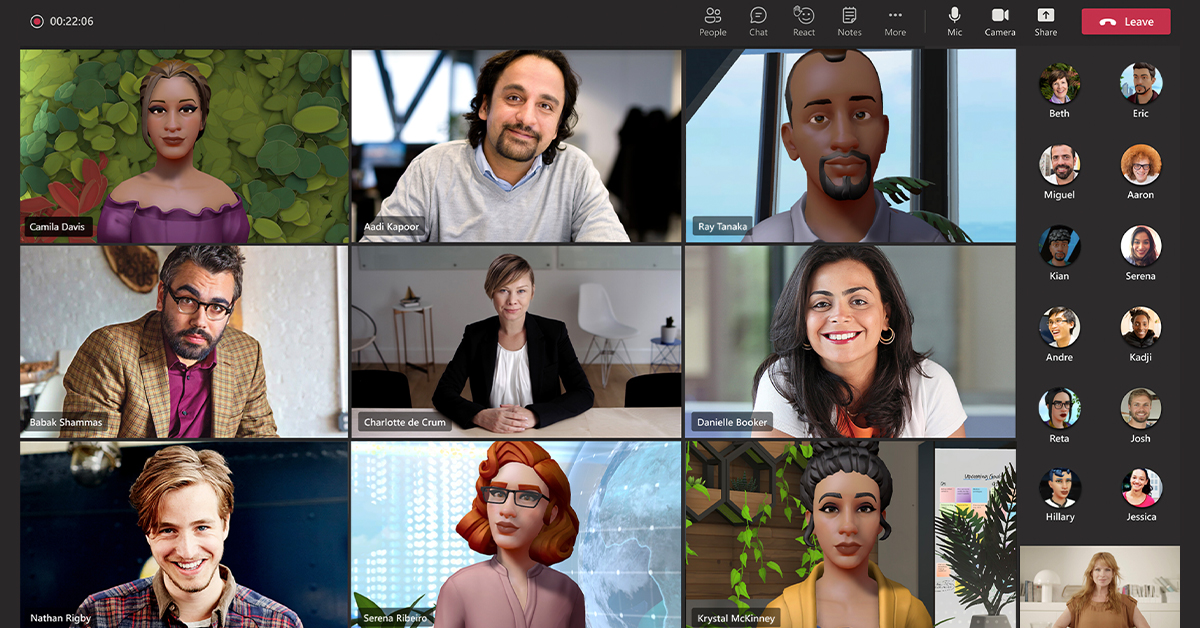 Ignite announces new immersive meetings with Mesh for Microsoft Teams
Mesh for Microsoft Teams announced at Ignite, is the newest addition to the future of calling with creative and personalised functionality. By incorporating physical features into the digital world, Microsoft aims to create a three-dimensional platform to further immerse clients, employees, and customers into their calling experience.
Do you ever feel alienated when no one has their cameras on in meetings? Through using personalised avatars, callers can now interact and express themselves with their camera off! A feature that can be beneficial to the individuals mental health while still bringing the personal experience to everyone on the call.
Additionally, organisations can simulate physical spaces within an online ecosystem. Spaces like conference rooms, networking lounges and offices can be replicated to spark creativity and fully immerse employees. Finally, Microsoft 365's collaboration features are not lost in the virtual environment, where content can easily be shared from within.
When will Mesh we ready to launch? We are expecting it to be available from mid way through 2022! 
New user experience features in Microsoft Teams meetings
While in meetings – organisation is key! Microsoft is bringing new organisation features to improve the user experience. With easy accessibility and simplicity, Teams is becoming much more streamlined. 
But, what can you do with the new features? 
Assigning roles through the new Scheduling Form enables your team to stay prepared. Roles such as organiser, participant, and co-organiser gives callers privileges and priorities. This keeps meetings organised and structured. 

Furthermore, there is now an order in which hands go up, ensuring your team feels heard and noticed. There's nothing worse than feeling ignored, and this feature makes you a part of your meeting!

'Pin' or 'Hide Your Own Video' features ensure you can remain focused and alert when in important meetings.

Moreover, mobile devices are becoming more relevant in Teams meetings. Microsoft is taking a better look at the Overflow Menu. The menu will prioritise key actions such as chat viewing and accessibility.

With the addition of a notification drawer, users can "preview, collapse, and clear all notifications with one tap"
Ignite announces new Microsoft webinar and broadcasting capabilities
We all love a professional and well-delivered webinar, however, the current systems used are far from seamless. Microsoft's new webinar platform is a virtual platform that enables professional and engaging experiences.
Microsoft's 'Virtual Green Room' creates a pre-live space, presenters can share content, talk live, and prepare before the webinar begins. While attendees wait, they are shown a welcome screen which is used to post questions and engage with the organisers.

Microsoft's 'Co-Organiser' feature enables the host to assign additional co-organisers who share the same capabilities with the original host. Up to 10 can be assigned to help with running polls, organising, and managing attendees. 

The function to pin answers and questions makes prioritising questions so much easier. Organisers can filter responses, moderate, and dismiss questions as they see fit.
Shared Channels and Chat with Microsoft Teams
It can be hard to maintain communication with external contacts such as partners, contractors, and suppliers. 'Teams Connect' creates an easy-to-use collaboration system with people outside of your organisation.
Stay protected with detailed encryption to ensure your chats are safe, secure, and private.

Be able to share documents externally, through a variety of organisations enables businesses to maintain efficiency and drive new business. With the new enhancements coming to the private preview, you will be able to schedule a meeting, collaborate real-time on apps, and share channels with up to 50 teams and as many organisations, as you need.
New chat, people, & presence features
Feeling noticed and showing your personality through a computer screen can be hard. It's becoming increasingly challenging to shine in an online environment.
'Chat With Self' is a personalised space that enables you to expand your creative look within the Microsoft Teams ecosystem. Remain organised with reminders, brainstorm ideas with the draft writing feature and create on the go notes with the 'Quick Notes' feature.

'Chat Density' makes your screen personalised and organised, so you see the messages you want in the way you wan, with the ability to minimise or expand.

With the introduction of over 800 new emojis, you can react, present, and express yourself.

Delay delivery enables you to personalise what times you send and receive messages. With delayed delivery you can schedule when your chats are sent, and give you and your colleagues the time off they need. From now on, you can write a message that is scheduled to go out Monday morning, to make sure your messages are not received out over weekends. 
Teams Phone & Contact Centre
Teams Phone is becoming even better! With advanced end-to-end calling Microsoft has announced more features to improve their calling system.
Dynamics 365 Customer Service is evolving into an "all in one digital contact centre that leverages Microsoft Teams" Integrating communication. Microsoft aim to make a true "Multi-Modal experience"

Bandwidth control policies are coming to Teams calling, allowing admins to restrict video calls in bandwidth contained areas.
Increased collaboration: Sales and marketing teams need easy contact between their teams for things like proposals and campaigns. You can now invite colleges from across the company to collaborate and connect on Dynamics 365 within Microsoft Teams. 
Teams + Power Platform: You can now create and build your own collaborative apps for your organisation from within Microsoft Teams. The new Power Platform enables Teams to be a 'one-stop-shop for all collaboration projects.
Power Virtual Agents

 enable your business to create chatbots that can enable your business to become more efficient. Your chatbots can support group interactions, and message users based on how you programme them to respond.

Power Apps

 is bringing more collaborative development projects through the integration of apps into Teams. Now you can embed apps into your chats with both internal and external users!
The latest Microsoft Ignite has really shown how Microsoft intend to create a new generation of communication and collaboration. With an abundance of features coming in 2022, there's so much to look forward to! The introduction to Mesh, the Metaverse, and the constant talk of a 'Mixed Reality' will revolutionise how we all conduct business in the future.
Although we are excited about being back to real life experiences, we are really excited about creating our own avatars!