Microsoft Teams Brings Family & Friends Together
Life is better, when we stay together. 
With this is mind, Microsoft Teams are introducing their new features created to let you manage both your work and personal life right from within Teams. With some of the most exciting features to date, get ready for together mode, shared to-do lists, dashboard and emojis! 
Now you can feel like you're in the same room
As we in the last year have replaced in-person family time with virtual dinner parties, and the regular coffee shop chat with virtual 'walk&talks', we face a new struggle. Video calls fatigue is real and will never replace that 'real' feeling of being surrounded by friends, family and collegaues. 
To help with this Microsoft have now made Together Mode a key feature in all Teams video calls. Both the ones you do at work, but also then ones you use in your personal life. 
Tired of the squared video calls with only a few faces at the time? 
Together mode is the solution that enables a virtual environment you can tailor to fit your calls. 
Choose one to fit the theme of your video call, from environments such as warm coffee shops, under the sea, a glorious summer resort or a cozy family lounge. It's even shown that together mode, reduces video call fatigue because the brain doesn't have to work as hard compared to a standard video call.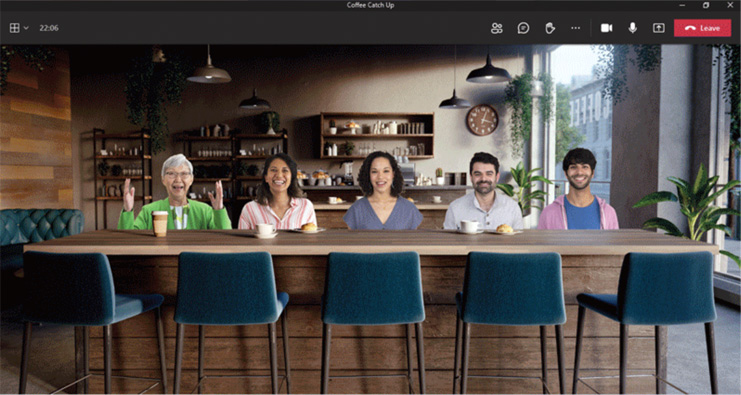 Do you think video calls are impersonal or lacking the emotions of human touch? 
Now you can react with emojis or even GIFs. It makes your conversations flow better and gives you a quicker and easier way to react in a group chat or video call. As we've all gotten used to using emojis in online conversations, this will sure make our video calls much better too. 
If you missed a call where your entire group got together you can easily catch up via the chat transcript so you are always on top of any news. 
What if I don't have Teams?
So far you've had to have access to Teams, to use it with Friends and family. However, Microsoft have now changed that, so you can have video calls with anyone from any device! You can connect via PC, Mac, iOS, Android or your standard web browser. Even if you don't have Teams. 
It's never been easier to plan calls or virtual events!
It's time to get organised!
No matter if it is with collegaues, friends or family, organising the simplest plan can become a huge task! Endless emails, texts, phone calls and keeping track of everyones calendar seems to bring endless problems and everything that's been decided ends up scattered across multiple places. 
Now Teams will help your group stay organised. 
Big or small – you got it! 
Best thing? 
You never even have to leave your chat. 
If not everyone in your group use Teams, you can add them with their email or phone number. They can even respond to all group chats using SMS texts. Here you can create and share a to-do list while also assigning tasks to others in the group. 
Finally, they provide the satisfaction of checking-off items once completed. 
Organising sounds a whole lot easier this way, right?
When you can't agree on something, Teams next features comes in place.
You'll able to do polls directly in your chat! A feature that will be launching soon. 
So, if you can't figure out when to host the next day out, which time of the day your team prefers to have meetings or even what to have for dinner, you can create a poll and let everyone get a vote.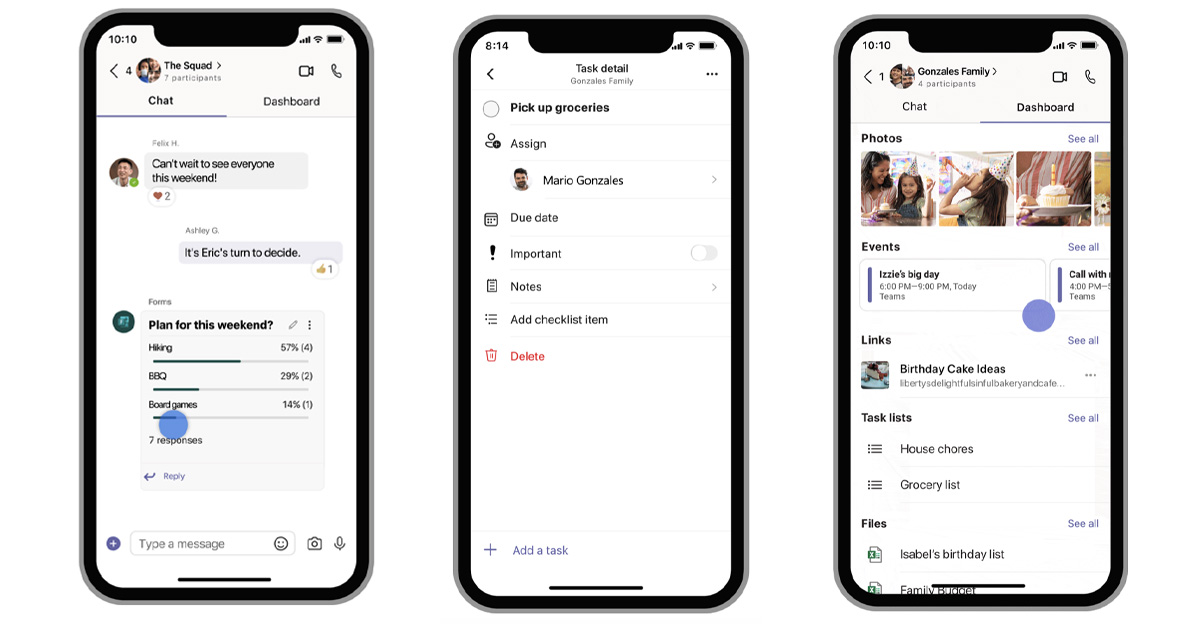 The overview comes with the dashboard
The more files, documents and events you share in a chat- the harder it gets to stay organised. To overcome this Teams have created a dashboard that keeps track of all shared files while presenting them in a simple way. 
Here you get a quick overview of your next planned events, tasks assigned to you from the to-do list, the latest photos and easy access to the spreadsheet you have to update. With this you will be able to catch up in a quick and easy way. 
An app for the 'new normal'
Have you seen your work and home life blend together in the last year? 
That is the case for many of us, and doing so you find yourself constantly switching between different tasks presented on different apps and medias. 
As work and home life have blended together, finding the balance can be more than difficult. With these new features, Teams allows you to manage your entire life within Teams, while still keeping the two separated. 
Clear separation exist between your personal and work account. It works across all fields and includes your contacts, files chats as well as all other information. This way you can be sure to not mix it up and accidentally send family photos in the wrong chat. 
You can switch between your two accounts just by clicking on your profile. 
It allows you to switch seamlessly between your work and home life- when you need it, where you need it. 
How do I get the new features?
All these new personal feature in Microsoft Teams are free for anyone- also for the ones who don't have Teams accounts for work. Are you not a Teams user? Simply go to your normal App Store to download the app or download directly from your standard web browser here.

But if you already are a Teams user at work, you can add your personal account, by clicking on your profile picture in the right hand corner. 
Get ready to enjoy an easier way to manage your work/life balance!
Want to share it with your friends?